Uniting European experts at EuDEC to improve patient outcomes in dry eye disease: an interview with Professor Christophe Baudouin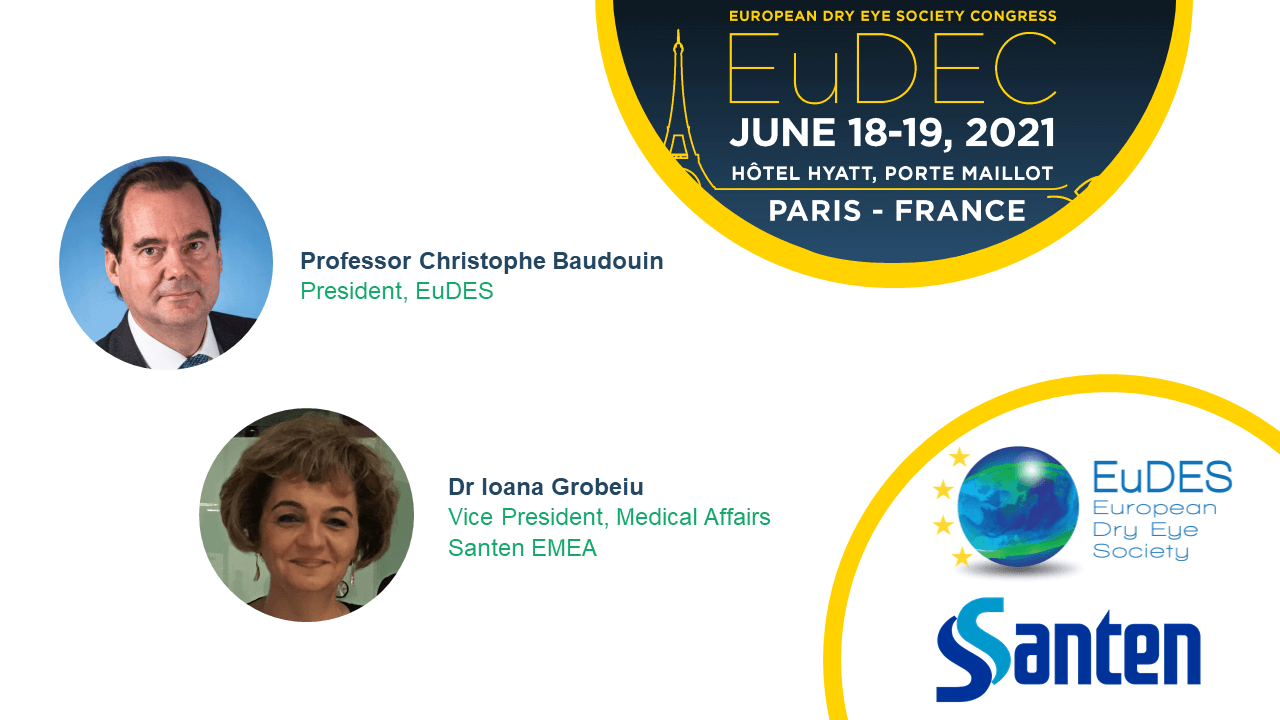 Dr Ioana Grobeiu, ophthalmologist and Vice President of Medical Affairs at Santen, reflects on clinical practice, medical education in ophthalmology and the impact that COVID-19 has had on patients. Joined by Professor Christophe Baudouin, President of the European Dry Eye Society (EuDES), they discuss the specific impact on dry eye disease, the current unmet patient needs and the significance of the first ever EuDES congress taking place this weekend.
Listening to the ophthalmology community
I joined Santen earlier this year and like so many others have experienced starting a new role virtually in a pandemic. On reflection, I am proud that as a company we adapted to the new environment in real-time. We were able to continue the partnership with the ophthalmology community, not only in designing and running research that improves patient outcomes, but also in delivering high-quality medical education.
However, adapting to a world with COVID-19 has not been easy. We wanted to contribute to the understanding of the impact that the pandemic has had on clinical practice and patients with eye diseases. Last year, my colleague Jean-Sébastien Garrigue, Vice President of Research and Development, initiated a collaborative project, liaising with ophthalmologists and patient associations in order to explore the community's experiences during the pandemic.
We also surveyed 502 people with dry eye disease across France, Germany, Italy, Spain and the UK to understand how the COVID-19 pandemic and lockdown had affected their symptoms and quality of life. Our findings showed that:1


It's vital that we learn from these experiences and prioritise patient insights and real-world evidence. Our eyes are under increasing stress, not just because of changed circumstances during COVID-19 but also due to an ageing population, high digital device use and exposure to environmental pollutants.
Dry eye disease clearly needs to be prioritised – as it can really affect quality of life.2 I was therefore delighted to speak with Professor Christophe Baudouin, President of the newly formed European Dry Eye Society (EuDES), to discuss the objectives of the society and why scientific exchange is paramount with the inaugural European Dry Eye Society Congress (EuDEC).
Uniting European experts in dry eye disease
Can you please tell us a bit about the EuDES and why it was formed?
There is a lot of frustration surrounding dry eye because it has a major impact on people's quality of life. It also has many causes and is at the centre of many different diseases, making diagnosis sometimes difficult. Dry eye can be present in people with glaucoma for example, or people who have allergy, skin conditions or autoimmune diseases, as well as people who wear contact lenses, or who have undergone refractive surgery.

It is a disease with multiple definitions, which makes it difficult for an ophthalmologist to really understand it and treat each patient's need.
We need to understand dry eye disease better. This is why the EuDES was founded. Although other societies exist internationally, I wanted to form a European task force to share new ideas, research and technologies relative to our region.
You mentioned that dry eye disease has a major impact on people's quality of life, can you please explain this in more detail and outline the current unmet patient needs the society hopes to address?
People with more severe dry eye disease have a poor quality of life. Their eyes sting and can feel very uncomfortable. People can then really suffer when undertaking everyday tasks, such as reading, working on a computer and driving. Their quality of vision is also affected because they have to blink more to ensure their tears cover the surface of the cornea. If the surface is not smooth then light scattering can take place, resulting in even more blinking and ocular fatigue.

The EuDES hopes to address these unmet patient needs by understanding the discrepancy between signs and symptoms of dry eye disease. When patients are really suffering, if we see that the cornea is damaged then the explanation is logical. However, some patients present with the same symptoms but do not have cornea damage. We hope to increase knowledge and research around the use of new technologies and sophisticated mechanisms to identify inflammatory cells and biomarkers to help us to then understand a patient's neuropathic pain.
Despite the impact on quality of life, is there a gap between healthcare professionals' and patients' perception of dry eye disease?
Some healthcare professionals may view dry eye disease as simply a stinging eye. There is more interest in glaucoma or age-related macular degeneration because they are diseases that cause blindness. It can be perceived that dry eye doesn't interest anyone – but it should because patients are suffering and it's a complicated disease. You're not measuring a mathematical number, such as with intraocular pressure for glaucoma, you're measuring pain and disability, which is much more complex. The EuDES aims to raise awareness of this and to unite experts around a patient-centred approach to managing the disease.
What has been your experience in setting up this inaugural event for the society during a pandemic?
When setting up the congress, I organised it with other European dry eye disease experts and wanted to design a programme that had a good balance between scientific and industry sponsored sessions. I also wanted to ensure that nothing was happening in parallel with the keynote sessions and the virtual set-up has enabled us to do this.

Virtual congresses have two main advantages. Firstly, they allow us to reach a broader audience and people who might not have attended in person due to travel costs and the time required. Secondly, they allow us to provide attendees with an option of replaying sessions and re-visiting content later to see what has been discussed.

However, we do miss out on social interaction, which is vital for brainstorming and increasing the generation of ideas among experts, practitioners and companies. I think the future of congresses will be hybrid, so we can experience the best of both.
Thank you very much for your time and we are looking forward to attending and participating in the EuDES congress.
Stimulating scientific interactions and sharing knowledge
As Professor Baudouin mentioned, although we one day hope to be able to participate in scientific exchange events in person and spend time with friends, colleagues and peers, it's important that for the time being, we keep connecting virtually to stimulate scientific interactions and share knowledge. This is why we are proud to be a gold sponsor of EuDEC and are looking forward to uniting with dry eye disease experts across Europe to improve patient outcomes.
We hope you will be able to join us for our online symposium on Saturday 19 June, 13:30-14:15 CEST titled State-of-the-art management of dry eye disease. We will host a panel of international experts to discuss the need for effective targeting in the management of dry eye disease and the value of an evidence-based approach to continuously evolve patient outcomes.
At Santen, we understand the value of sight and are passionate about exploring and nurturing people's eye health by collaborating with and learning from the experts in the field. As well as our own activities, I am particularly looking forward to the Vision and dry eye disease session on Saturday 19 June, 10:15-11:30 CEST to explore further the impact of dry eye disease on patient quality of life and vision. Please visit the EuDES website for details on the full scientific programme.
Continuing education in dry eye disease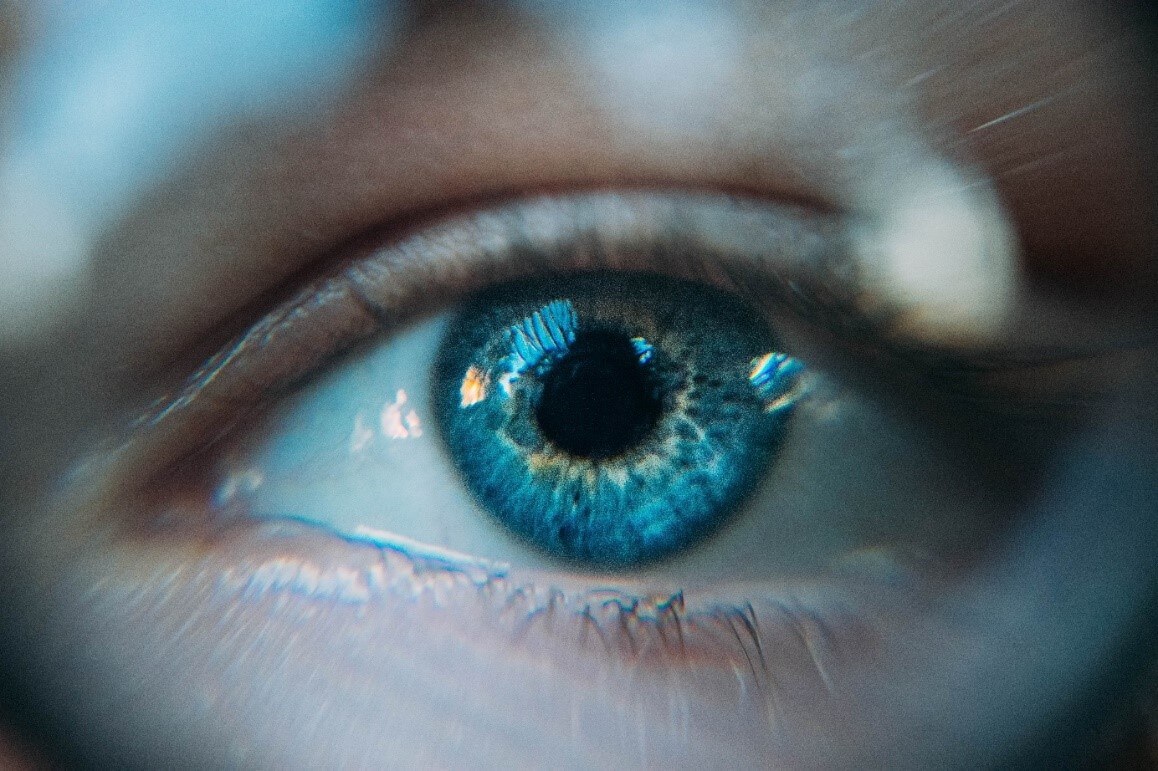 Since the pandemic, the ophthalmology community has taught us a lot about resilience and the importance of our eye health. We hope to keep on working with the EuDES to make dry eye disease a priority in Europe, while listening to patients to understand how we can work together to improve ophthalmic care.
References
The impact of COVID-19 on people with dry eye disease. Santen 2020 data on file. NP-FOTE-EMEA-0168
Hossain P et al. BMJ Open 2021; 11: e039209
Document number: NP-DED-EMEA-0092
Date of preparation: June 2021