Pharmaceutical firms
Universities
Research institutes
Manufacturers in other industries
Commercial alliances
Commercial alliances are also very important to us. We look for network-based drug development opportunities, including in-licensing of compounds from external sources to strengthen our pipeline. We also collaborate with commercial partners to investigate and develop new, specialist products. Currently, we have promising pipeline products in joint development with companies specialising in stem cell innovation and AI-based drug discovery.
Globally, we have established commercial relationships with numerous pharmaceutical brands and organisations.
Partnership examples
Sydnexis
In August 2021, we concluded an exclusive licensing agreement with Sydnexis, a clinical stage biopharmaceutical company, for SYD-101 for the Europe, Middle East and Africa region.
SYD-101 is an investigational proprietary low-dose atropine sulfate ophthalmic solution (0.01% and 0.03%) developed by Sydnexis to treat progressive childhood myopia, or near-sightedness. SYD-101 is currently undergoing a large multicentre phase III clinical trial, the STAAR study, in Europe and the USA.
jCyte
In May 2020, we entered into a licensing agreement with jCyte, a clinical-stage biotech company, for exclusive development, registration and commercialisation rights of jCell in Europe, Japan and Asia.
jCell is a first-in-case investigational therapy currently in clinical development for retinitis pigmentosa (RP). To date, jCell has received Orphan Drug designation from the USA Food and Drug Administration (FDA) and the European Medicines Agency (EMA). Plans are also in place to investigate the potential application of jCell for degenerative diseases affecting retinal cells other than RP.
Verily
In February 2020, we established a joint venture with Verily, the life sciences and healthcare focused subsidiary of Alphabet, the parent company of Google. Verily develops tools and devices to collect, organise and activate health data, and creates interventions to prevent and manage diseases.
As part of this partnership, we will collaborate to develop and commercialise unique ophthalmic devices by applying Verily's microelectronics and scalable digital technologies, and our industry knowledge to support modern ophthalmology practices and improve the outcomes of patients living with eye diseases.
International Telecommunication Union (ITU)
In January 2020, we entered into a partnership with the International Telecommunication Union (ITU) supporting the Be He@lthy, Be Mobile (BHBM) initiative.
The ITU is a leading United Nations (UN) agency, driving innovation in information and communication technologies (ICTs) together with 193 Member States, and has a global membership of nearly 900 companies, universities, and international and regional organisations.
In 2012, ITU and the World Health Organization (WHO) created the BHBM initiative, in an effort to implement national health programmes to raise awareness of the prevention and management of non-communicable diseases (NCD) using mobile phones and other digital devices. Following our involvement in this initiative, it will now address NCD in ophthalmology. Examples of NCD include glaucoma, dry eye disease and cataract.
Once the scope of our collaboration with the ITU is finalised, we will be able to leverage the BHBM platform to support eye health communities worldwide.
NTC: Co-development project
Bacterial resistance is one of the main concerns of the 21st century regardless of the therapeutic area. Given that the innovation process for ophthalmic anti-infectives remained stagnant for more than a decade, we have entered into a co-development project with NTC with the intention to develop an alternative option to existing standard of care treatment for post-cataract management and to raise the awareness about bacterial resistance in ophthalmology.
OFF Health: Distribution/licence agreement for OTC dry eye
Together with OFF, we decided to join forces in co-developing and offering new treatment options, especially in the field of dry eye, with the intention to leverage sustainably the quality of life for those suffering from dry eye disease. The arrangement foresees a tight cooperation to internationalise a selection of OFF's brands and jointly develop improvements especially in the field of dry eye.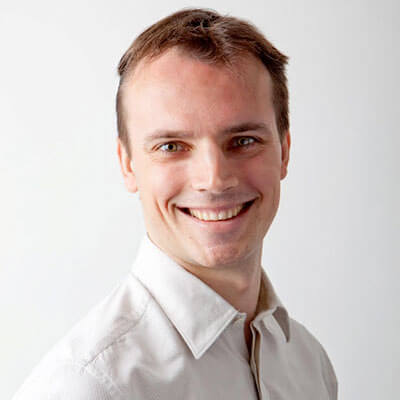 "We strive to address unmet medical needs and achieve faster access for patients to treatments by working closely with partner companies, research institutes and academia."
Jean-Sébastien Garrigue, Vice President of R&D, EMEA
Research partnerships
Partnerships are a crucial component of our R&D activities. They enable us to conduct broader, multidisciplinary work so we can better develop innovative therapeutics and technologies to answer current and future unmet patient needs in ophthalmology. Our partnership approach brings together Santen's asset portfolio and longstanding drug development programme with our research partners' novel technologies and translational research capabilities.
Research partnership examples
Massachusetts Eye and Ear and Ulster University
Together with scientists from Massachusetts Eye and Ear (USA), a research and teaching hospital affiliated with Harvard Medical School, and Ulster University (United Kingdom), we will be researching and developing novel treatments for glaucoma.
The aim of this international collaboration is to identify, characterise and develop new and unique treatments for glaucoma. The investigations will focus on how to prevent and reverse damage caused to the optic nerve due to glaucoma by exploring new therapeutic targets in the visual nervous system.
Oxford Biomedica
In 2019, we entered into an R&D collaboration with Oxford Biomedica, a leading gene and cell therapy group. The aim of this collaboration is to research and develop gene therapy products that can treat inherited retinal diseases with lentiviral vectors suitable for the delivery of large genes to the eye, which are developed and manufactured by Oxford Biomedica.
The collaboration also includes a licence agreement to use Oxford Biomedica's LentiVector® platform and access to its industrial-scale manufacturing capabilities.
University of Helsinki (Finland)
We have a decades-long research partnership with the Centre for Drug Research (CDR) at the University of Helsinki. This multidisciplinary research group explores pharmaceutical sciences, molecular and cell biology, materials science, bio-organic and physical chemistry, and molecular modelling. Our researchers are seconded to the research teams. Over the years we have attracted around €1m of outside investment in CDR research projects.
The CDR is headed by Professor Arturo Urtti, one of the world's leading experts in the field of ophthalmic drug delivery and also a member of Santen's Drug Delivery System (DDS) advisory board.
UCL Institute of Ophthalmology and SenSyT, London
We are currently funding eight full time PhD studentships at UCL (University College London) Institute of Ophthalmology (IoO) to study the biology and pathology of eye diseases, including glaucoma, Usher syndrome and diabetic retinopathy. The aim is to develop new methods of diagnosis and treatment for these blinding diseases.
UCL's Institute of Ophthalmology (IoO) is a world leader in studies of vision and eye diseases. The institute has at least 45 principal investigators and collaborates closely with the famous Moorfields Eye Hospital, London, UK. The Institute is the oldest and largest centre for ophthalmic treatment, teaching and research in the world.
SenSyT (Sensory Systems, Technologies and Therapies) is a multi-disciplinary research network at UCL, committed to advancing basic and translational research to tackle the scientific and biomedical challenges of human sensory health.
The UCL IoO-Santen PhD Studentship programme and other collaborative research at the institute is managed by the Head of the Santen Global Alliances and External Research (GAER) department, Dr. Naj Sharif, PhD, FARVO, FBPhS, Vice President, Santen Inc USA (Emeryville, CA). The Santen GAER Team has also been involved in establishing and conducting collaborative ocular research directed at many eye diseases including at the world-renowned Singapore Eye Research Institute (SERI), at the LV Prasad Eye Research Institute in India, Liverpool University, and partner companies such as Boehringer Ingelheim and twoXAR.
Singapore Eye Research Institute (SERI)
In March 2017, we launched a strategic five-year collaboration with SERI to develop new technologies and novel treatment modalities for ophthalmic diseases and disorders. Together with the Singapore government, we have jointly invested SGD 37 million (equivalent to €23.5 million) in the programme, with the aim of establishing a robust pipeline of ophthalmology products that will benefit patients globally. Glaucoma, diabetic retinopathy, ocular infections and myopia are the team's focus domains.
A Santen-SERI joint laboratory is located in the Academia building on the SingHealth campus at Outram Park, Singapore. Scientists from Santen and SERI work together on new product development. Our team includes local hires and experienced scientists from Japan and elsewhere. They work with scientists and clinicians across the research community in Singapore and the Asian region. The Santen-SERI joint Lab is managed by Masaaki Kageyama, PhD, who is another key member of the GAER department.
Santen Ventures
In early 2015, we established a venture arm and since then co-fund early-stage innovation in ophthalmology. At Santen, our interest is to syndicate with lead investors and to assume an observing role to enable free innovation, guiding itself with its sound industrial expertise. To date, we have invested in more than half a dozen start-ups and companies. Sweet spot investment targets are entities developing pharmaceuticals, gene therapy, cell therapy, therapeutic devices, drug delivery technologies, biomarkers and diagnostics.