Embracing change in dry eye disease at EuDEC 2022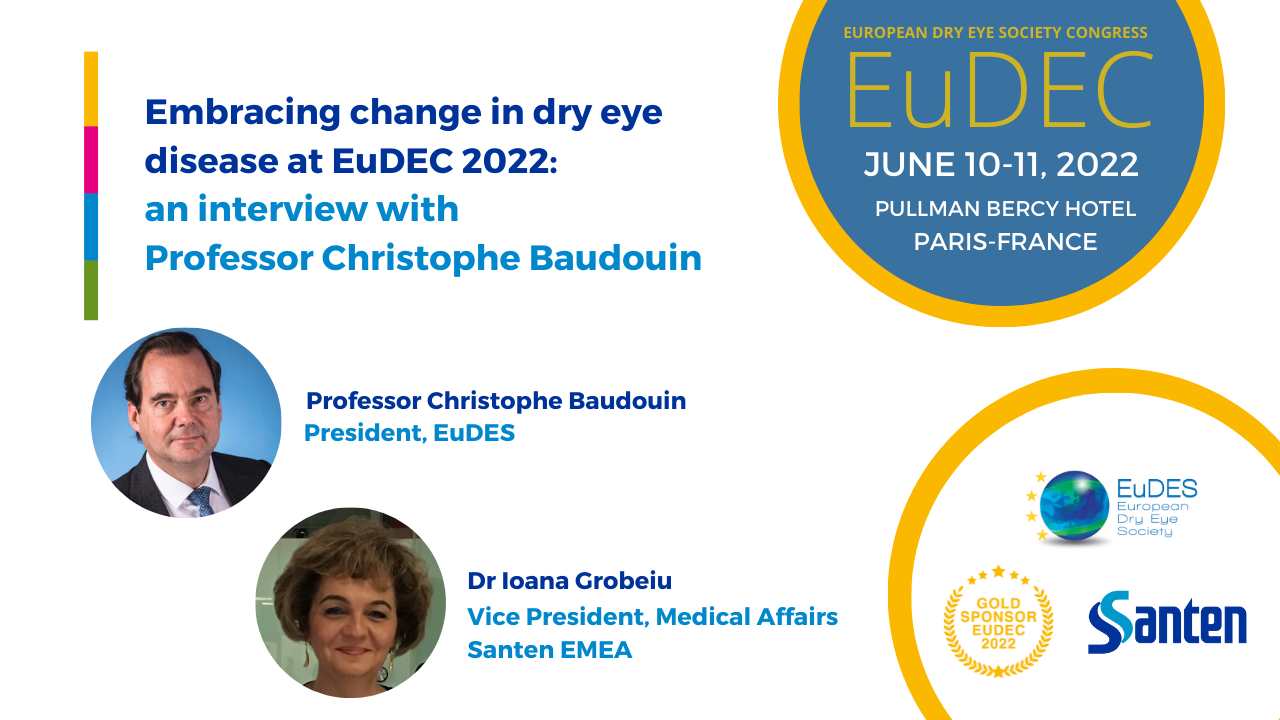 Last year Dr Ioana Grobeiu, ophthalmologist and Vice President of Medical Affairs at Santen, spoke with Professor Christophe Baudouin, President of the European Dry Eye Society (EuDES) to discuss the significance of the first congress that took place virtually in 2021.
One year on, following the easing of COVID-19 restrictions across Europe, the discussion was around the changing landscape of dry eye disease and medical education. Read on to find out how Santen have been embracing this change and working with the EuDES as the society prepares for the second congress this weekend in Paris.
The COVID-19 pandemic has changed the landscape of chronic conditions such as dry eye disease. The exponential increase in screen time has seen younger people of both sexes increasingly impacted by dry eye disease.1 In addition, measures for controlling the spread of COVID-19, such as regular face mask use, have also exacerbated the problem.2 It is known that it can be a symptomatic condition, that can impair vision and in severe cases can even cause permanent eye damage.1,3 Despite this, there is a concern among ocular surface experts that the condition is not a medical priority for many ophthalmologists and as Professor Baudouin previously mentioned it can be viewed 'as simply a stinging eye'.
Since joining Santen last year, the medical education landscape has changed drastically and COVID-19 has left a legacy on the way we all interact with each other. A more virtual, hybrid learning model for HCPs has been established. Although, in my opinion, there is no replacement for face-to-face interactions, a recent study revealed that a more flexible, online approach is highly valued.4
Since the formation of the EuDES and as we continue to adapt to COVID-19, I wanted to understand the dynamics of ophthalmologists' perceptions of dry eye disease and medical education.
Adapting to an evolving medical education landscape
Virtual or hybrid learning may now be favoured by some but one thing remains at the heart of medical education – people's experiences. We knew that as a company we had to continue to engage with the community and to create an open dialogue where real insights were being shared.
That's why this year we launched the Santen Eyecare Education (SEE) portal*, an educational platform and promotional resource with high-quality, personalised learning content for ophthalmologists only, co-created by experts in the field. We recognised that the SEE portal would need to be tailored to individual learning styles and working schedules. To help ophthalmologists have fun and enjoy their learning, we also launched the Santen in 10 challenge – a gamified experience powered by real-life patient case studies that only takes 10 minutes to complete each month.
Perception of dry eye disease among ophthalmologists in Europe
The EuDES was set up to create a European task force where new ideas could be formed and research and technologies regarding dry eye disease could be discussed. As well as our own medical education programmes, we have been proudly supporting the EuDES with initiatives that focus on increased dry eye disease education for both patients and healthcare professionals. Has this helped to shift perceptions among the community? Professor Baudouin shared his perspectives with me along with an insight into the exciting plans for EuDEC 2022 and beyond.
1. Since the formation of EuDES, have you seen a shift in perceptions from ophthalmologists on the importance of dry eye disease and the burden to patients?
Ten to fifteen years ago, dry eye was perceived as perhaps just an annoying disease for patients suffering from burning or stinging sensations. Dry eye has now become a major disease and following a number of major shifts in the treatment landscape, the EuDES felt it was critical to create a forum for scientific information to be shared and to facilitate best practice. That's why we want to continue to hold regular meetings, inviting experts, delegates and companies from across the world – to the European Dry Eye Society congress.
2. What are your objectives for EuDEC 2022 and how do these build on last year's?
Our original model was to have a congress every two years, like the European Glaucoma Society. However, we are seeing a lot of interest in having a congress every year. This comes with challenges. It's difficult to build a programme that would be of added value to delegates each and every year, so we're reviewing our model very intently at the moment. Perhaps one year we could host a complete congress and then focus more specifically on hot topics in dry eye disease in the year following.
3. What were the key takeaways and learnings from the first congress that are being applied to this year's congress?
Last year was a 'COVID congress' which was totally virtual. This year, we are hosting a face-to-face event in Paris. Of course, some aspects of the programme were modified for this year's event but the major topics remain the same. For the next congress it will be necessary again to revisit and update, but if you look at, for example, the European Glaucoma Society congress, there are consistent sessions in each event, including surgery, medicines, visual field etc. Dry eye is no different – there is a need to communicate on key topics, particularly on the prevalence of dry eye disease following medical or surgical interventions. The patient perspective is also critical in dry eye disease since many patients suffer from neuropathic pain which can be very disabling. We must discuss this further and place patients at the heart of treatment.
4. Since the COVID-19 pandemic, we have seen a shift in how medical education is delivered – changing from face-to-face, to virtual and now back to face-to-face or a hybrid approach – what is your opinion on how ophthalmologists prefer to give and receive medical education?
This year's European Dry Eye Disease Society congress is hybrid, meaning that those who are unable to attend in person are able to connect online. It's great to be able to offer this option, particularly as for many delegates, such as those from outside Europe, it is of course more difficult to travel to Paris for the event. Face-to-face, however, is very important. The opportunity to meet and connect with people by chance is fantastic. You are able to discover and open your mind differently when you attend an event in person versus when you connect to it online.
5. Finally, what is your ambition for EuDES and the congress next year and beyond?
The ambition is really to grow. We want to bring together an international group of experts who can help us to establish regularly updated treatment guidelines to support ophthalmologists in managing dry eye disease in Europe and across the world.
Changing how we think about dry eye disease
We are thankful to Professor Baudouin and the other experts that have been involved in setting up the EuDES. The value of sight and eye health must not be mistaken and we want dry eye disease to be seen as more than 'simply a stinging eye'. We want to continue our collaboration with the society and ophthalmology community to support ophthalmologists in changing the way they think about dry eye disease – and is why we are a proud gold sponsor of the congress this weekend in Paris.
By seeking to understand the diversity of patient experiences in the diagnosis, management and treatment pathways we hope to be able to tackle this growing public health concern and highlight the real impact it can have on people.
If you want to be a part of this change or any of the medical education initiatives I have mentioned, we would love to hear from you. Please visit us at our booth at EuDEC or reach out to me directly on ioana.grobeiu@santen.com.
*SEE is currently available in France, the Netherlands and Spain. Santen in 10 is also currently available in France and the Netherlands.
References
1. Barabino S. Ophthalmol Ther 2021;10(3):495-507.
2. Giannaccare G, et al. Graefes Arch Clin Exp Ophthalmol 2020;19:1-2.
3. Bron AJ, de Paiva CS, Chauhan SK, et al. Ocul Surf. 2017;15: 438–510.
4. Grabowski E, et al. Ophthalmologe 2020;117(12):1218-1224.
Document number: NP-DED-EMEA-0135
Date of preparation: June 2022