Santen supports World Sight Day 2019 with voluntary action as part of the 10,000 Hours initiative
Geneva, Switzerland – Santen EMEA is proud to support World Sight Day (WSD) 2019, an annual initiative hosted by the International Association for the Prevention of Blindness (IAPB). WSD is an important event, and this year's theme, Vision First, aims to raise awareness of blindness and vision impairment as the major international public health issue it is and educate audiences about blindness prevention. The overall goal of the initiative is to underline the benefits of early diagnosis and the importance of understanding the warning signs of eye health issues.
As a leading specialist ophthalmology company, Santen is committed to constantly growing and improving our range of medicines and technologies to support people with eye health concerns. However, our commitment to the community goes beyond our product portfolio including the combined efforts of all of our people across the EMEA region as part of the 10,000 Hours initiative. The 10,000 Hours initiative is a patient support initiative, which over the last 18 months has seen employees from across the region, dedicate 1,625 hours of their collective time to work with local charities and non-government organisations (NGOs) and advocacy groups in eye health.
Santen is using the 10,000 Hours initiative to support and make a difference to the vision impairment community. Over the last year and a half, Santen staff have met with local NGOs to understand gaps in their volunteering support and coordinated local, grass-root activities to actively get involved and help plug these gaps for the local ophthalmology community.
"We are delighted to be supporting the IAPB for their annual World Sight Day initiative," commented Luis Iglesias, Head of Santen EMEA. "Many thanks to Santen employees from all over Europe, the Middle East and Africa for their dedication to bringing our vision for life 10,000 Hours closer."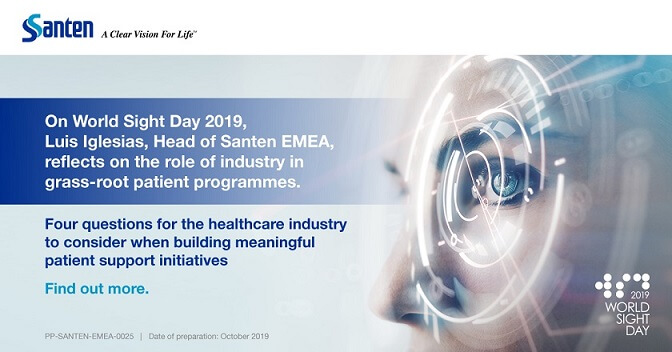 Job code: PP-SANTEN-EMEA-0026
Date of preparation: October 2019