Santen presents 'Pioneers in glaucoma: A history of ground-breaking progress'
Press release for specialist healthcare professional, trade and consumer media
Geneva, Switzerland – Santen, a global specialist in ophthalmology, is delighted to present 'Pioneers in glaucoma: A history of ground-breaking progress', an interactive timeline mapping the people behind the centuries of scientific discovery in glaucoma.
Our understanding of glaucoma, is built on years of dedication and commitment from experts from all over the world. Ever since 400 BCE when Hippocrates first defined glaucoma as 'glaykoseis' – a blindness in the elderly – pioneers such as Richard Banister, Eduard Jaeger and David Epstein have, in pursuit of a life free from vision loss, sought to better understand the pathology, diagnosis and management of glaucoma, a disease which is growing in prevalence and predicted to affect over seven million people in Europe by 2040.1
The timeline details a range of discoveries that have shaped anatomical understanding, informed diagnostic methods and laid the ground for modern medical and surgical interventions. It is however, undoubtedly incomplete as there have been many who have contributed to our collective understanding of glaucoma over the years. That's why Santen is asking for input from the ophthalmology community and beyond, to complete this history of ground-breaking progress in glaucoma. Visit the campaign landing page to learn more about contributing.
"As an ophthalmologist, I learnt the history of glaucoma as part of my training. Seeing the contributions of these pioneers presented in this way, really emphasises the great progress we have made," said Ioana Grobeiu, VP, Medical Affairs, Santen EMEA. "The current understanding of glaucoma was built from a long and complex journey, and it continues to evolve at pace. I am excited about what new discoveries are around the corner and how these may influence clinical practice."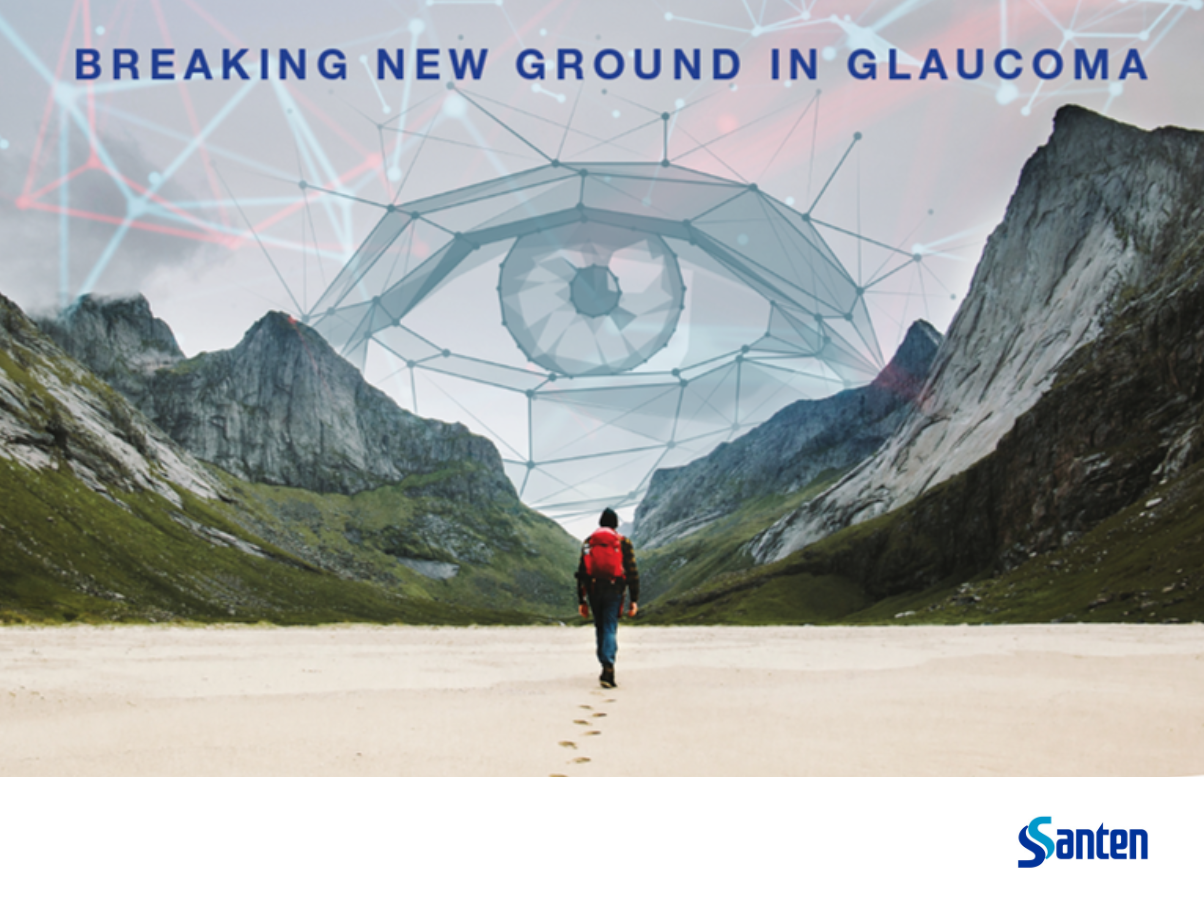 Santen's mission in glaucoma
Currently a leading cause of irreversible blindness, glaucoma is a progressive eye disease that causes damage to the optic nerve due to excess pressure within the eye,1 and can lead to devastating sight loss which is preventable in 90% of cases.2
For over a century, Santen has been committed to protecting the precious sense of sight from diseases like glaucoma by supporting people with glaucoma and their ophthalmologists. We know that ophthalmologists work tirelessly to transform the lives of people with glaucoma and overcome the challenges faced in treating this chronic, progressive condition. Faced with issues around adherence, often caused by ocular surface disease (OSD),3 ophthalmologists work with medical treatment options that have stayed broadly the same for the last 25 years.4
We're not afraid to challenge the status quo in glaucoma management. In pursuit of better eye health for all, our long-term mission is to build a portfolio that supports ophthalmologists in meeting the diverse needs of their patient population and address these challenges.
References:
Tham Y-C, et al. Global Prevalence of Glaucoma and Projections of Glaucoma Burden through 2040: A Systematic Review and Meta-Analysis 2014;121:2081–90
The International Agency for Prevention of Blindness (IAPB) 2021 Vision Atlas
Kaštelan S, Tomić M, Metež Soldo K, Salopek-Rabatić J. How ocular surface disease impacts the glaucoma treatment outcome. Biomed Res Int. 2013;2013:696328. doi:10.1155/2013/696328
Glaucoma Research Foundation. 'Glaucoma Facts and Stats'. Available at: https://glaucoma.org/glaucoma-facts-and-stats/ . Accessed May 2022
About Santen

As a global specialised company dedicated to ophthalmology, Santen carries out research, development, marketing, and sales of pharmaceuticals, over-the-counter products, and medical devices that benefit patients in over 60 countries. Santen's long-term vision is to become a social innovator in ophthalmology and address social and economic issues related to eye health by strategically exploring advancing technologies and collaborating with key leaders around the world. Underpinned by its people-centric values, Santen aims to ultimately deliver happiness with vision – a life with the best vision experience for every individual around the world. With scientific knowledge and organisational capabilities nurtured over 130 years, Santen provides products and services to contribute to the well-being of patients, their loved ones and consequently to society. For more information, please visit Santen's websites www.santen.eu (Europe, Middle East and Africa, EMEA) and www.santen.com (Japan headquarters).

Document number: NP-GLAU-EMEA-0328
Date of preparation: November 2022